Application Hosting Services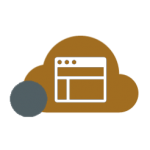 We deliver your fully integrated and configured applications on a cost-per-user basis from our highly available, highly secure cloud infrastructure. This enables you to better align your IT costs back to your business by utilizing a true cloud utility model to consume your key applications while giving you the flexibility to scale as needed. We host your software applications on dedicated virtual or physical managed servers that are connected to a diverse and resilient communications infrastructure.
Our business-critical cloud application hosting provides you with secure connectivity to our fully managed monitored infrastructure that benefits from full power resilience, has complete environmental control, fire detection, and suppression as well as comprehensive entry and surveillance systems. You can rest easy knowing that your data is being held with a passion for data security.
Benefits of cloud application hosting services:
Impressive operational flexibility, allowing you to quickly scale our resources to meet your performance and capacity needs.
Flexible pricing model where you only pay for the services that you need, allowing you to budget for those services more accurately.
Reduced capital expenditure, both now and in the future.
Enjoy a consistent and reliable service.
Scale back or re-deploy your costly internal IT resources to focus on other, more beneficial projects.
The service is fully managed, supported, and monitored by our engineering team.