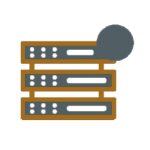 We can provide you with highly scalable, secure, and fully flexible managed hosting services for your individual business needs. Get access to our hosted IT infrastructure that is designed, delivered, and fully managed by our team on your behalf, ensuring that it remains both secure and compliant. Explore the full range of managed hosting services.
Dedicated Server Hosting
Our dedicated server hosting will provide you with the flexibility you need to deploy a custom, compliant and secure technology infrastructure that is fully managed by an experienced team of experts. We have the capacity and capability to create a dedicated server solution to meet your specific business need.
Managed Server Hosting
By adopting manager server hosting for your business, you can focus on projects that are designed to grow your business, while relying on proven experts to deliver the fully managed IT infrastructure that you need. Our engineers will create, deploy, monitor and support your infrastructure, ensuring that it is available when you need it, freeing up your teams to carry out other important tasks.
Managed Storage Hosting
Secure your critical data with cost-effective, high-performance, and fully scalable managed storage that offers impeccable performance for your business. With exponential data growth in your business, along with increased security and cyber-crime risks, it makes sense to adopt a storage solution that is fully managed and supported by a team of proven storage experts.