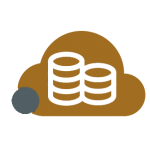 Store your business-critical data in our fully supported, secure, and flexible cloud storage platform. Our cloud storage will provide you with scalable, fully managed, and cost-effective storage for all of your organizational needs. By adopting our cloud storage, you will quickly and effectively improve your application performance, your data availability, and your overall business resilience.
By adopting a fully flexible cloud storage solution, you enjoy access to a trusted and reliable storage platform that allows you to avoid expensive investments in hardware, services, and licensing. You can also be confident that you are only paying for the resources that you use with our based consumption model. As you look to drive down your costs and deliver a more reliable data storage service to your team, you can seamlessly integrate our cloud storage service with your existing storage solution, or you can use our storage as an effective means of migrating away from your legacy storage solution, with your storage being presented to your physical or virtual cloud-based servers.
Built using enterprise-grade hardware, our cloud storage deployments are all housed within our secure and fully redundant connectivity data centers. Additionally, you can opt to include flexible business continuity and disaster recovery (DR) options, where your storage can be regularly replicated to secondary, geographically distant data center environments, ready to be called upon should the need ever arise. Once operational, your cloud storage solution is managed, monitored, and supported by our directly employed, skilled, and experienced service team.
Benefits of our cloud storage service:
Your cloud storage can be added to your infrastructure quickly and easily.
Your cloud storage is fully managed and supported by our experienced storage specialists.
You enjoy improved data availability from a solid and proven cloud storage platform.
Your data is guaranteed to remain fully compliant, housed at all times in our secure cloud infrastructure.
You can quickly and easily replicate your data to multiple environments for added resilience.
You can scale your storage up and down quickly and easily to meet your organizational needs.
You can maximize the performance of your storage while reducing your costs and overheads.
You enjoy integrated, end-to-end enterprise-grade security.
You will also benefit from our policy of continual improvement, ensuring that your IT services are always hosted in highly advanced and resilient cloud infrastructure.