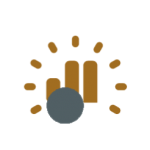 The data center transformation service team can help you develop and implement a strategy that meets your existing and future data center needs. We can look at visualizing and optimizing your server setup, transform your storage capabilities and address your environmental concerns. Datacenter transformation refers to both a physical transition of your data center setup, as well as a transformation of your thinking with regards to how best to set up and utilize your data center for maximum benefit.
Benefits of our Data Center Transformation Service:
Lower your costs and reduce the complexity of owning and operating your own aging physical infrastructure.
Benefit from easier and more cost-effective data center management.
Enjoy a smaller carbon footprint and improved compliance with environmental regulations.
Optimize your resource utilization.
Fewer business interruptions and can enjoy better operational performance.
Enjoy increased availability and improved security.
Maximize your return on investment.
This is especially beneficial when your physical infrastructure is nearing the end of its' useful life and needs replacing, with virtualization offering you a range of opportunities to consolidate your setup, deliver increased efficiency, lower and make your costs more predictable while also allowing you to scale quickly and easily when you need to. We have the operational experience needed to leverage optimal technologies to transform your data center environment.