Telephony Hosting Services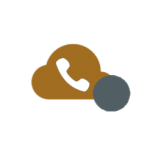 Our hosted telephony services allow you to benefit from a feature-rich business telephone system, without the need for expensive hardware and complicated installations. You can unleash the power of your internet connection to radically improve your communications, increase your flexibility and reduce your costs. From a feature point of view, you can take advantage of all of the features of a traditional phone system while also being able to work from the devices and from the locations that you choose, with call quality being carefully managed to ensure that you enjoy crystal clear calls at all times.
Benefits of our Hosted Telephony Services:
Enjoy improved flexibility and efficiency. For example, you can add or remove users and functionality at any time or work from any location.
Reduce and better manage your costs. You don't need to buy, install, maintain or upgrade a telephone system, hardware, or software. Additionally, you can enjoy internet calls, which are always cheaper.
Future proof your business using a resilient hosted telephony service.
We look after all of your business continuity needs, ensuring that you have access wherever you have a suitable connection.
If you move office, your numbers and set up follow you without you needing to manage a telephone system move.
We will be your single point of contact with our support team and will always be on hand to support you and your needs, giving you peace of mind.